The significance of recycling waste rubber and waste tires
Waste rubber products, especially waste automobile tires with a large amount and a wide range, are recyclable and reusable resources after processing, and they have great utilization value. Saving resources, protecting the environment, developing a circular economy, reducing the burden on the earth and preventing global warming are the common goals and responsibilities of the whole world. Therefore, the recycling and processing of waste rubber products, especially waste tires, is extremely important.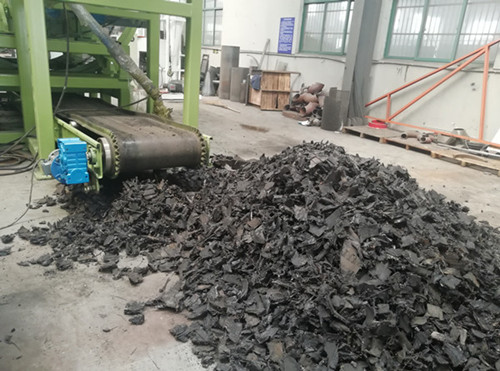 Waste rubber mainly comes from waste tires, waste inner tubes, waste tapes, waste rubber pipes and waste rubber shoes and other rubber products, and secondly from waste products and scrap waste generated in the production process of rubber products. It belongs to a large category of industrial solid waste. In order to protect the living environment of human beings, and reduce the pollution of waste rubber the environment, it has been a top priority to realize the recycling, processing and utilization of waste rubber, especially waste tires.
Carrying out the recycling, processing and utilization of waste tires is an important way to turn waste into treasure, turn harm into profit, prevent waste rubber from polluting the environment, and protect the environment; it is a means to develop a circular economy and recycle and reuse waste rubber resources; it is a means of fulfilling international environmental protection. Convention and the foundation of environmental diplomacy. Reclaimed rubber and recycled rubber crumb are the supplementary resources of reclaimed rubber and one of the indispensable main raw materials in the rubber industry.
Countries around the world have attached great importance to the recycling, processing and utilization of waste tires and vigorously developed the waste rubber recycling industry. They have even passed laws and regulations to establish and improve the waste tire recycling network and supporting mechanism, establish special funds, implement financial subsidies, tax reduction, and other operational measures, and gradually move towards the mode of recycling and turning waste into treasure.
>> Shop for our waste tire recycling machines here
How To Start A Tire Recycling Business?
Do not think tire recycling is very simple.
First of all, I want to say that nobody can understand a lot of things well before he gradually experiences them, used tire recycling business is one of those things.
Secondly, although used tires are full of valuable resources, still many used tire recycling beginners can not make this business successful, and some even get bankrupt, why? The reason is that they spent too much money buying too much or too expensive bad used tire recycling machines before they have enough experience in the used tire recycling business.
Thirdly, please note that different types of used tires, different sizes of used tires, different damage conditions of used tires, and different further processing purposes of recycled tire products, require different types of tire recycling machines to do better jobs.
Fourthly, I want to let you know that there was no universe machines that can recycle all types of used tire, such as: complete steel ply tires, complete fiber ply tires, half steel & half fiber ply tires, and OTR tires, etc. If using the same used tire recycling machines to recycle all used tires at the same time, the recycling efficiency will be very low, and the recycled steel wire and recycled fiber cannot be completely separated, which means there will be some steel wire in recycled fiber and there will be also some fiber in recycled steel wire, it will be a bad experience, right?
Optima provides various waste tire recycling machines. If you are interested in our products, please contact us now!