Optima produces the cost-effective Mobile Tire Shredder, which will save a significant amount of money on shipping for our global customers. In order to make shredding more efficient and to anywhere,this design is a perfect solution,it can be placed on the truck.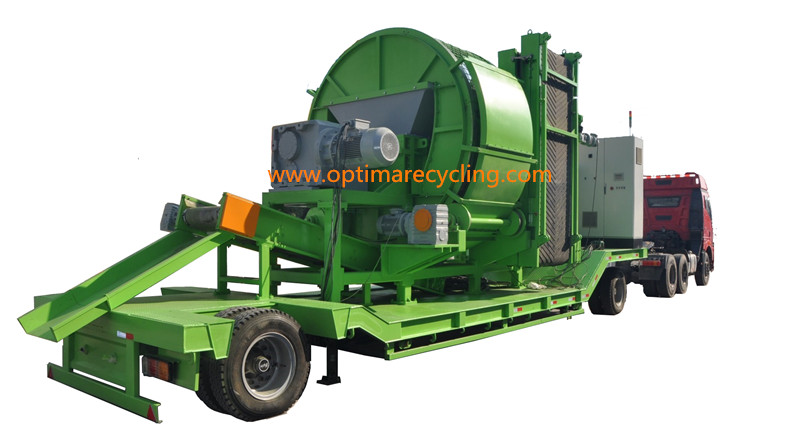 Mobile Portable Tire Shredder to make TDF chips 50 * 50mm.
There is a trommel screen installed with shredder,infeed with whole waste tire,the rubber chips will go through the screen and keep the size around or less than 50*50 mm,we say it's TDF chip,this is a good fuel for cement plants.
50*50mm rubber chips.
The main equipment is the doublt shaft shredder,our two shaft shredders are designed with an aggressive low RPM, high torque shredding technology. The shredder blade thickness ranges from 25 mm to 152 mm (1"-6") depending on the type of tires, throughput, and desired end product. The customized biggest shredder can process OTR tires, large truck tires, and car tires at a rate of up to 20 tons per hour.
Portable shredder applications
You can find more tire recycling machines and recycling equipment from Optima. Optima will always provide the most cost effective solution for end-of-life tires.
1. 50*50 mm TDF chips that can be used as fuel.
2. TDF chips can also be produced by the Wire Free Mulch Plant into 18-30mm wire free rubber granules and steel wire for Pyrolysis, gardens, playgrounds, and horse arenas.
3. Then the Rubber Crumb Machine produces wire free rubber granules into 1-6mm rubber granules for mats, runways and playgrounds.
4. Further crushing rubber granules into rubber powder by Rubber Powder Production Line for construction and transportation applications.
FAQ:
Q1: How to choose the suitable machine?
A: Please answer first:
a: What material do you want to shred?
b: What is the usage of the crushing material?
c: How many tons per hour do you demand?
After that, the suitable machine could been introduced to you.
Q2: What about the shipping and package?
A: We arrange shipment according to your requirements. It is included in our TURNKEY service.
Q3: Can I visit your company or factory?
A: Of course you can.Our production plant is in Changzhou city, Jiangsu province.When you fly to China, we could pick you up at airport or train station.
Q4: What's the relationship between Optima and Dura-shred?
A: Sharholder,they are 2 brands belonging to the same group.
Q5:What about the warranty?
A: 1 year warranty for main parts,20 years for the heavy duty machine.
Q6: Will you send the engineer to guide installation?
A:Yes, according to the customer's requirement, engineers will be sent to guide installation,commisioning and training