Turnkey service of tire recycling
At Optima, we manufacture tire recycling equipment, the most advanced tire recycling machine in the industry. We cover every stage of the tire recycling process, from whole tires to crumb rubber powder.
Mobile Tire Shredder/Tire TDF plant: used in breaking whole tires into roughly sized shreds for other applications,Mobile shredder to make TDF chips 50 * 50mm. Tire TDF plant is designed for shredding waste tire into 50mm~150mm rubber blocks. We say it's TDF chip, this is a good fuel for cement plants.
Wire Free Mulch Plant: used in separating the metal wire from within tires. Wire Free Mulch Plant is specifically designed to take pre-shredded tires chips and produce between 18-30mm wire free rubber chip, The finished products it produces primary uses are for gardens , playgrounds, and arenas.
Rubber Crumb Machine/Plant: used to further process tire strips into smaller sizes, and to separate fibers. Rubber crumb application in floor mat,running track and playground.
Rubber Powder Production Line: a final step in tire processing; this further breaks rubber down into fine grains, can be applied to rubber tube,rubber tire,reclaimed rubber.
Tire Shredders
Our line of tire shredders and scrap tire shredding and recycling equipment process a variety of tires:
Car Tires
Truck Tires
Passenger Tires
Agricultural Tires
Tractor Tires
Off Road Tires (OTR)
Forklift Tires
Mining Equipment Tires
Aircraft Tires
Tires Recycling Production Line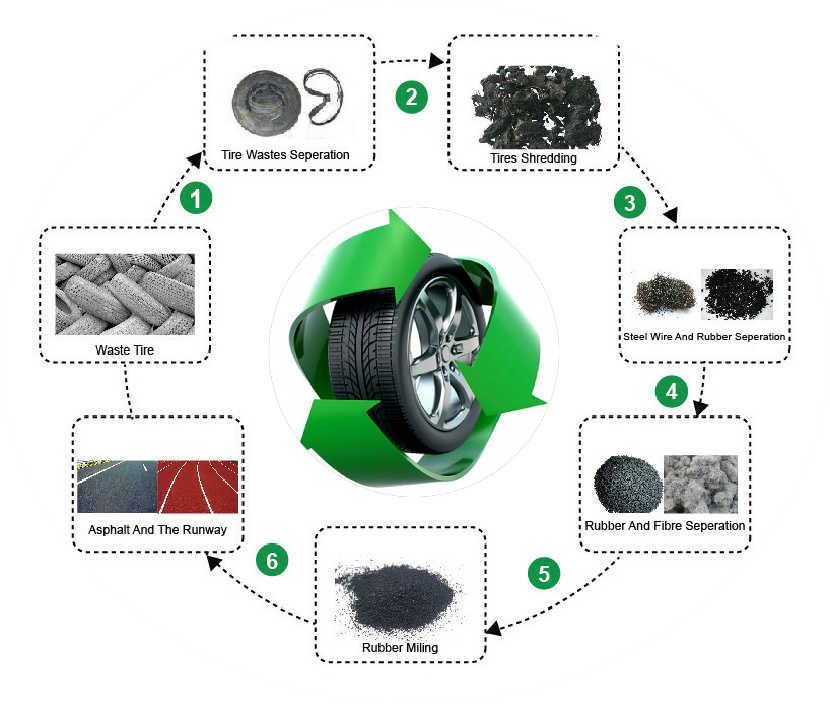 Application
Our product line of tire shredders and recycling equipment includes a wide range of custom shredders, grinders and granulators, Excelling in efficiency, durability, and reliability, our equipment can process tires to produce clean rubber crumbs of specific sizes, as well as the finest, cleanest powdered rubber for use in a variety of applications including:
Crumb rubber for playground surfaces
Rubber powder for sport/turf fields
Rubberized asphalt paving (rubber modified asphalt*)
Rubber powder for manufacturing of molded or extruded rubber parts、
Customized tire recycling solutions
Our main focus is to provide custom designed tire recycling systems that deliver optimum production for a variety of applications such as TDF (Tire Derived Fuel), rubber mulch, and crumb rubber. We have manufactured and installed recycling systems in countries all over the world, including the US, Canada, Mexico, Poland, South America, India, South Africa, Puerto Rico, Spain and Kazakhstan etc. These systems are specifically designed and tailored to fit the diverse needs of our global customers.
Advantages of our tire recycling plant
Exclusive Control System - Controls and operates the entire plant from its centrally located position and provides instant visibility to what each machine is doing in real time.

Unique Stop/Auto Reversal Feature – Protects against overfeeding and damage by non-processable items.

Premier Full Turn Key Systems – Plant is manufactured, shipped, installed and ready to start recycling.

Warranty – one of the best warrantees in the industry.

Working with Dura-shred and a contracted manufacturer for Eco Green