Rubber powder production line is designed for rubber material where a powdered products is required. Granules of size 1-7mm is fed via feeder to the rotating high speed serrated disk to produce a powder product in the required 20-100mesh range and where the final size is determined by adjustable centrifugal screen.
Miller / Grinder
Feeding : Crumb Rubber / Granulate, size: 18 to 4 mesh (1 to 5 mm)
Output : Micronized Rubber Powder (MRP) / Rubber Powder free from exposed wire and textiles with two category size range:
•30 to 60 mesh (250 to 595 µm)
•60 to 80 mesh (177 to 250 µm)
Application: rubber tube,rubber tire,reclaimed rubber
Tire recycling process and clean rubbers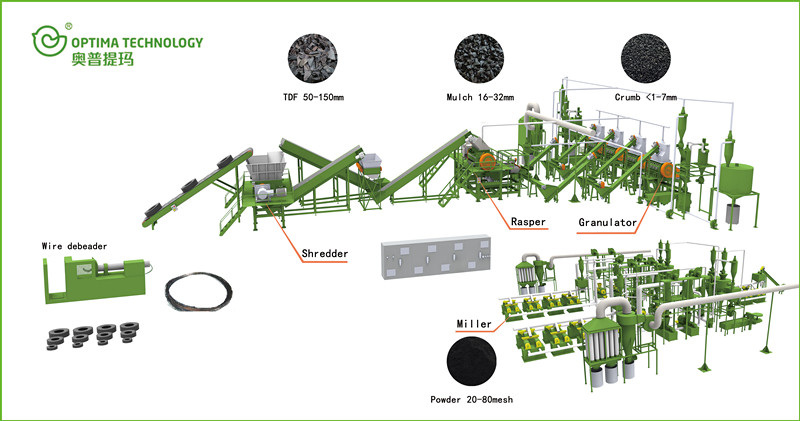 FAQ:

Q1: What's the main feature of your miller?
l The powders are screened by adjustable centrifugal screen until the desired size is reached.
l The blade inside are made of Tungsten Steel and have a long life cycle.
Q2:Is there any additional installation fee?
A:You will be responsible for the round tickets,accommodation and salary for engineer(s).
Q3:I want one shredder with the capacity of 5 T/H, how many tires it shreds?

A: About 600 pcs of car tires(outer diameter less than 800mm) per hour or 200 pcs of truck tires (outer diameter less than 1200mm)per hour.
Q4:What is the largest capacity of your shredder?

A: For car tires, the capacity of our customized double shaft shredder is up to 20 Tons per hour.
Q5: Can you send us the layout and electric drawing?

Files send with machines,including layout drawing, foundation drawing, electrical drawing, manual,packing list,spare parts list,factory test report, installation and maintenance video.
Why Optima?