OPTIMA now offers small wire and cable granulating and separating units that can be purchased at a lower cost and occupy a smaller footprint than earlier systems.
Another Option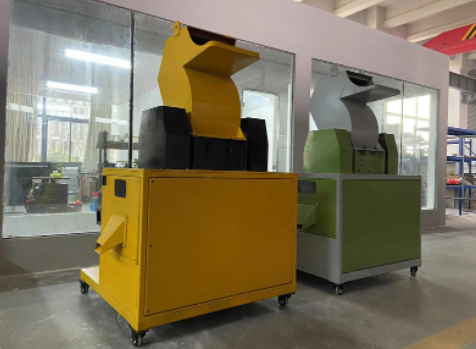 Small Cable Granulator and Separator OTD50
Managers of smaller scrap processing locations have always had a variety of options as to how to handle the wire and cable scrap they purchase.
Those who wish to put the minimum amount of labor hours into handling the material can bale it, making a decision as to whether to do any pre-sorting by wire thickness or exterior cladding type.
The decision as to how much sorting to do can often tie into whether the dealer intends to sell the material to an export broker or to a wire chopping specialist. Domestic processors purchase mixed loads, but typically the less pre-sorting that is done, the more likely the material will be sold to an export destination where it will be sorted by hand.
Processors who have diligently sorted wire and cable by like coatings and thicknesses are considered to have material of interest to a wider number of domestic wire chopping specialists.
Depending on a processor's assessment of his or her workforce's availability and the profit margin to be gained, material may be stripped and cut to a uniform length before being shipped out. This results in material that can be of interest to an even wider pool of potential buyers.
And now more recently, with copper prices having settled in at a historically high trading range, personal recycling stations with scrap wire and cable in hand are scrutinizing whether to outfit even their smaller-volume scrap wires and cables with a scaled-down small cable granulator and separator that can allow them to produce a finished copper or aluminum chop product.
Fitting the Footprint
As copper has gained in value in the past several years, OPTIMA has responded by bringing smaller-scale, more affordable processing machines to a wider market.
Some recyclers or electricians have a small number of cables and they don't have space to keep the scrap.
Mini copper wire granulator OTD50 is a very good choice. And the pricing is more suitable for personal use.
Workflow
Put the waste wire or cable through the top entrance of the machine, use the shredder to shred the wire and cable to 2mm to 3mm particle size (only when it is this small, the plastic skin and copper particles will be peeled off from each other). Then using the principle of specific gravity vibration, the materials with different specific gravity will be separated from each other, and then the particles with the same specific gravity will flow out from the same outlet, and you will get plastic particles and copper particles.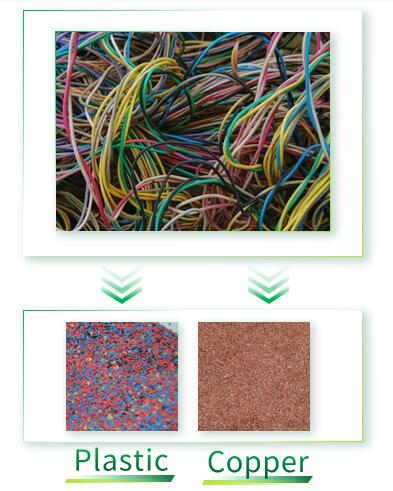 Before and After Mini Copper Wire Granulator OTD50 Processing
Small Copper Granulator Features:
Low power consumption, the main motor is 3kW, saving energy;
1 phase electricity, the workshop is not necessary;
Small dimensions, save installation space;
Both rigid cable and flexible wires are acceptable;
It is driven with single-phase power 220V or 230V or 240V.
FAQ
1. What would be the biggest size cable for this machine to process?
Answer: Cable range: rigid <10mm, flexible <15mm
2. Does it have different size screens for the sizing of the copper?
Answer: Each set of OTD50 have 2 screens,2mm Latest Trends: Small Cable Granulator and Separator
Want to know more about OTD50? Head over to our product details page or contact us directly!